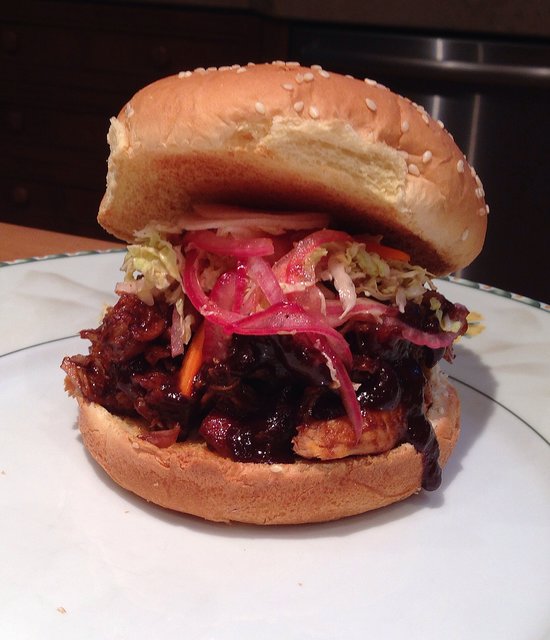 Bone in skin on pork should slow cooked at ~180 for 20 hrs. v1 of BBQ sauce recipe was good:
12 oz tomato paste
6 oz balsamic vinegar
8 oz pineapple juice
8 cloves garlic minced
1 bay leaf
3 sprigs thyme
3T veal demi glace
.5t sweet paprika
1t cayenne
1t mustard powder
2 oz. dark chocolate (I used 82%)
3T salt
2T molasses
1T worcestershire
1 chopped carrot
1 chopped celery stalk
1 chopped onion
.5C brown sugar
Combine all ingredients in stock pot, bring to boil, simmer for 4-6 hrs. Strain. The four key knobs to adjust taste: salt, balsamic for tang, sugar for sweet, and cayenne for heat. If you find you have too much vinegar, add a teaspoon of baking soda, stir until the bubbling stops, and test.
Combined with pork on toasted bun, topped with nappa cabbage, red onion, carrot, and daikon radish pickled with this:
2C seasoned rice wine vinegar
1t coriander
2T honey
1t black peppercorns
1T red chilli flakes